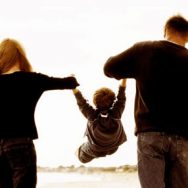 So what guidance is available to help divorcing parents or separated parents? Firstly provide lots of reassurance to your children telling them that you both love them and that this will not change. Judith Wallerstein child psychologist concluded that the most valuable gift a separated parent could give to their child was to give their blessing and approval to seeing and spending time with the other parent. So what other help is out there?
Resolution website is an accurate and reliable internet divorce website. Resolution has created the material for fantastic information meetings for separated parents called Parenting After Parting and you can click on the link here to find the full details and to listen to the interview on Radio 4 on Parenting After Parting during Jenny Murray's Woman's Hour.
For 70p plus postage I can highly recommend a brilliant little pamphlet prepared by Kent Mediation Service which is called What Most Children Say. Hundreds of separating parents have thanked me for giving them this short simple booklet since it is written in such an easy to read way (only takes a few minutes to read) and they have used it to prompt a discussion with their children. Why is this important? By children reading the comments from other children about how they have felt when their parents separate then this enables parents to normalise their children's feelings for them. In this easy and low key way then children can be reassured that some of their unusual thoughts and feelings are actually perfectly ok and normal. Here is the link for the order form.
Likewise I give my clients the large red  Resolution Guide for parents called Separation and Divorce – Helping parents to help children which was written with the help of renowned children expert Christina McGhee and costs £4.99 plus postage for a hard copy or you can click this link and download a free copy.
This is packed with hints and tips, for example there are chapters on coping with the emotional side of separation or on separate sections for children of different ages.
The overall effect of these guides is simply that. They are helpful guides. They are not patronising parenting classes. They are all about learning the new dynamics about being a separated parent. By reading these free or cheap guides then they enable a parent to realise two things: firstly that they can trust their instincts about when they feel they are doing the right things. Secondly these guides enable a parent to realise when they are not being met half way or fairly by the other parent. It is at that point that you should get detailed legal advice and find a way to resolve differences such as in Mediation http://bit.ly/q2Yts1 or in Collaborative Family Law http://bit.ly/p30c4z
Cafcass has a number of great guides for parents including a Parenting Plan booklet which has practical hints and tips on situations that separated parents will be faced with. Here is the link for a PDF copy to the Cafcass Parenting Plans – Putting Children First.
If a parent makes an application to court then they will have to answer the question of whether they have a Parenting Plan in place or have seen a copy of this sensible and practical document.
Similarly parents are expected by the court to have received information from a Family Mediator about how Mediation can help in a MIAMS Mediation Information and Assessment Meeting for the Family Mediators Association or find a Resolution Mediator.
Next steps:
If you are a separated or divorced parent and would like advice and guidance:
Call me: 01223 421 051
or email me duaneplant@dmfl.co.uk
Duane Plant
Divorce Solicitor, Family Mediator and Collaborative Lawyer
Divorce, Mediation and Family Law
Duane is a Cambridge Divorce Solicitor, Family Mediator, Collaborative Lawyer and trainer who is passionate about changing the way families experience divorce and separation. Duane gives constructive advice so you can divorce with dignity. Connect with Duane on Google+