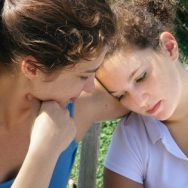 Contemplating separation and divorce is daunting enough…
but for parents the inevitable questions loom;
"What do we tell the children?"
and
"How do we tell the children?"
I have put together some guidance which has been gathered from my experience in the last 25 years of  working in this area and I hope that by sharing this knowledge freely with you it will help make things much easier and clearer for you and your family. I hope to help you to help your children.
Guidance
You have the first key already in your own question, "we" – you do tell them together.
You need to agree what you do not tell them. They should never be burdened with who is right and who is wrong.
You need to agree beforehand what you do tell them.
The most important bit is they need to hear your joint reassurance that you both love them but you will not be living together.
Be ready to manage your emotions in front of your children.
Keep reassuring them you love them and that hasn't changed and will not change.
The feelings between you and your souse have changed for each other but not your feelings for the children.
Reassure them that the separation is not their fault – children often blame themselves.
They will have two homes and will be spending time with each of you.
If they can see that you can make joint decisions together then that will help them settle them down.
You need to give them your blessing to them spending time with the other parent.
You need to make sure they know it is ok to love both Mum and Dad.
Additional guidance for telling the children
CLICK HERE to read more guidance on what to tell children from the Resolution website   and you will be able to find out about Resolution's really useful 'Parenting after Parting' information meetings. They are not judgmental, patronising parenting classes. They can provide information about how parenting relationships change when you are apart.
and CLICK HERE to read more guidance from the government's DirectGov website
For further advice and guidance on making arrangements for your children:
Call me: 01223 421 051
or email me duaneplant@dmfl.co.uk
Duane Plant
Divorce Solicitor, Family Mediator and Collaborative Lawyer and trainer
Divorce, Mediation and Family Law
Duane is a Cambridge Divorce Solicitor, Family Mediator, Collaborative Lawyer and trainer who is passionate about changing the way families experience divorce and separation. Duane gives constructive advice so you can divorce with dignity. Connect with Duane on Google+